"We meet children where they are in order to get them where they need to be, " Kristine Barnett
By Ron Sandison
On June 26, Kristen Barnett came to my parent's house in Rochester Hills, Michigan, for the filming of the new Laurence Becker documentary Fierce Love and Art. I was excited to finally meet her. Three years earlier I had watched a Sixty Minutes segment featuring her son Jacob who has an IQ higher than Einstein and is on the autism spectrum.
While writing my book A Parent's Guide to Autism: Practical Advice. Biblical Wisdom I interviewed over 40 of the top experts in the autism field and over 40 parents who have a child or children on the spectrum. Kristine Barnett, the bestselling author of The Spark: a Mother's Story of Nurturing Genius, was a natural person for me to interview.
After our three-hour conversation on the phone, I knew Kristine Barnett was the perfect author to the write the foreword for my book. I loved her child-like faith in God, belief in the impossible, and her amazing ability to help her son Jacob and other children with autism thrive in life. Her teaching techniques using art, games, and fun activities reminded me of my mom using art and writing to develop my gifts.
Kristine shared with me and example of how she used a child's natural interest to engage that child. Lauren, a student who attended Kristine's Little Light Daycare (a learning center for children with special needs) did not enjoy reading or math but loved to play house. Kristine decided to harness her interest by teaching her the art of making pastries. At eleven, Lauren was volunteering at a soup kitchen on the weekends and had straight A's. Kristine told parents of children who attended her daycare, "We meet children where they are in order to get them where they need to be."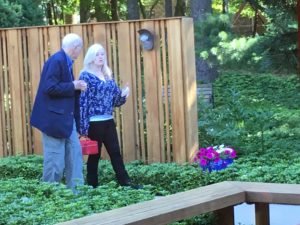 During our many conversations and emails I learned from Kristine practical wisdom for raising children on the autism spectrum. In my book I share Jacob's journey in the chapter Parenting Perseveration. Like my mom, the experts had informed Kristine that Jacob would probably never succeed in life—he would be lucky if he learned to tie his shoes or say simple sentences. One doctor told her, "You won't have to worry about Jacob learning the alphabet because he never will be able to talk!"
Kristine was determined to connect with her son and empower him to reach his full potential.
Four things I learned from Kristine are:
Be proactive. Jacob begin regressing at the age of two and quit talking. Kristine told the professionals, "Why concentrate on what Jacob can't do? Why not focus on what he can do?" She focused on Jacob's interests in shapes, shadows, and flash cards to help him develop speech and social skills. Kristine was proactive preparing Jacob for schools.
Create your home into a learning environment.

Kristine transformed her home into a learning center for children with disabilities. Neighbors, business owners, and friends donated supplies for the children's fun activities. The children built everything from cardboard castles, a universe with tinfoil stars, to papier-mâché butterflies. She encouraged her son to have fun while learning. By harnessing Jacob's passion for science and art, his social skills also improved.

Keep a positive attitude. It's always a joy talking with Kristine because of her upbeat attitude. No matter what doctors or professionals told her, Kristine kept a positive attitude and trusted that God would give her wisdom in teaching Jacob. Kristine encourages parents, "If you fuel a child's innate spark, it will always point the way to far greater heights than you could ever have imagined."
Progress comes through perseverance. Raising a child with autism requires advocacy and hard-work. Kristine said, "Whenever I meet an autistic kid who has made progress, I know that someone fought hard for that kid. No matter what the accomplishment whether he's toilet trained or in secondary school, whether he's recently started talking again or has gotten his first job, I know that someone behind that child believed in him and that they fought for him."
My mom loved meeting a fellow autism mom warrior who used art and science to blossom her son's unseen talents. At age sixteen, Jacob graduated from college with a PhD and is serving as an intern in Japan.
***
Ron Sandison works full time in the medical field and is a professor of theology at Destiny School of Ministry. He is an advisory board member of Autism Society Faith Initiative of Autism Society of American. Sandison has a Master of Divinity from Oral Roberts University and is the author of A Parent's Guide to Autism: Practical Advice. Biblical Wisdom published by Charisma House. He has memorized over 10,000 Scriptures including 22 complete books of the New Testament and over 5,000 quotes.
He frequently guest speaks at colleges, conferences, autism centers, and churches. Ron and his wife, Kristen, reside in Rochester Hills, MI, with a baby daughter, Makayla Marie born on March 20, 2016. You can contact Ron at his website or email him at sandison456@hotmail.com